Coquitlam firefighters will 'stache for cash in Movember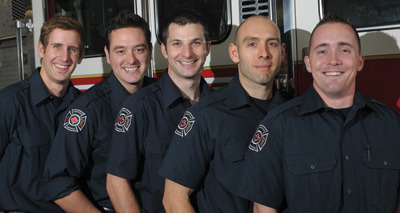 They're clean-shaven now but Coquitlam firefighters Curtis Roussel, Adam Steffich, Adam Mathison, J.R. Reisig and Kevin Powell will grow moustaches in an effort to raise money for prostate cancer.
Craig Hodge/The Tri-City News
Donate to our team, "Coquitlam Fire" @ ca.movember.com/mospace/559200/
By Gary McKenna - The Tri-City News
Published: October 27, 2010 4:00 PM
Updated: October 27, 2010 4:02 PM
Several Coquitlam firefighters will be getting in touch with their inner-Tom Selleck next month as they grow moustaches to raise awareness and money for cancer research.
The team is participating in Movember, which challenges men to change their appearances by growing a moustache for 30 days. Last year, the group raised more than $3,000 and hopes the moustaches will be the men's health version of the pink ribbons associated with breast cancer charity efforts.
J.R. Reisig, one of the firefighters participating in the charitable event, said he donned upper lip hair for Movember 2009.
"It was glorious," he said. "I grew quite attached to it, actually."
Starting next Monday, Nov. 1 he and his colleagues will shave all their facial hair before the growing takes place for the duration of the month. While letting a moustache grow may seem like an easy way to raise money, it does have its downsides, added Reisig.
"My wife hates it," he said. "She is getting her last kisses in over the next couple of days and then that is it until the end of November."
The first annual event was launched last year when firefighters Curtis Roussel and Adam Steffich thought it would be a fun way to raise money. This year, the Coquitlam Firefighters Charitable Society is stepping in to support the effort, which the members of the team hope will help spur donations.
"Cancer is something that heavily affects firefighters," said Kevin Powell, a Coquitlam Firefighter and member of the charitable society. "However, everyone has been affected by the disease on some level."