Third UPDATE: Coquitlam Firefighters have a team in the Red Bull Soapbox Derby!
Another update time. We have put in some interesting test runs lately. The cart is quite a bit faster than we expected, and as a result there was a crash. No major damage was done, but it was a great learning day. After a few tweaks, and a couple more screws in the frame, and a steering damper system made of bungee cord we were ready to test it off the jump!
Yes, that's right the Red Bull race has a jump in the course! The official jump on race day will be approx. 10 inches, and will be situated at the fastest point of the course (Red Bull estimates the faster carts will be reaching about 30 Km/h). So in order to test out our design and construction, we built ourselves a jump. Matt Wilkie was the first to go, and we decided to try a 4 inch jump, and the cart held up great. I was the next to go, and we up'd the jump to about 8 inches and again our cart held up fine!
So after the testing was done, it was time for the frame.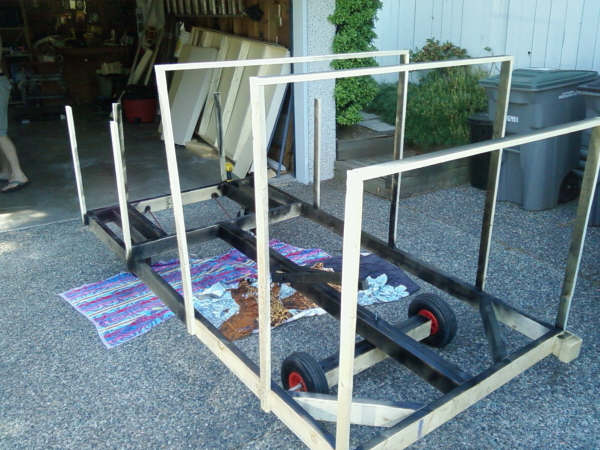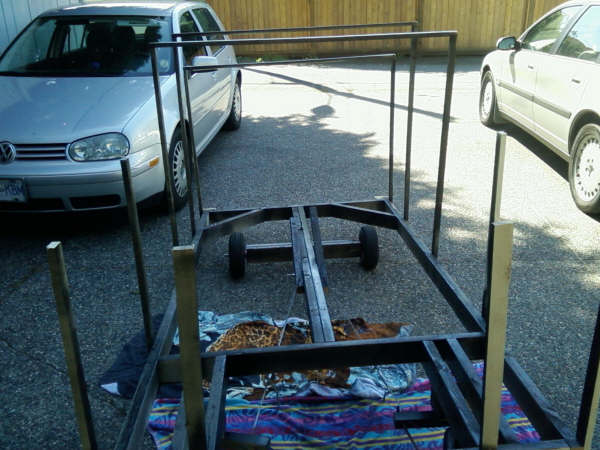 Currently the siding is out for paint, and the siren is being installed. Stay tuned for those pics!
On a quick note. Many don't realize, but we are actually going to be fundraising for the Burn Fund during this event. We have got the approval from Red Bull (in fact they are very excited about the idea), and we have approval from Vancouver's Executive and Charitable. The Coquitlam Now also found out about this, and has decided to run a story about our fund raising efforts as well.
I hope to see many of you out there on race day!! Sept 7th 11am. (C day, B night)
Craig.
Just an update for all of you!! The red bull website has been updated and now shows all of our competitors....check it out at:
http://www.redbullsoapbox.ca/the-race-teams.php
As for the build....after the initial plans were drawn and the brainstorming was done, the build was on. A couple trips to the hardware store and lumber yard, and a couple hours of construction and we had a frame. It is a pretty simple set up with two fixed back wheels, and two fixed front wheels on a center pivot. We decided to steer with our feet and avoid the hassle of steering components.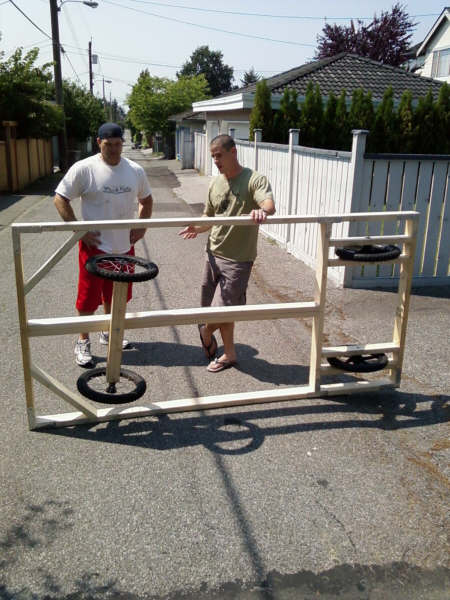 So now we have a cart, and no brakes....so our first thought was to transfer some bike brakes over to the back wheels....but that turned out to be a little harder than expected...so we went with a simpler pinch brake. We also found that our axles for our bike tires were too weak, so we swapped them out for some more sturdy wheels with a bigger axle.

A quick trip to a thrift store to find a seat, and a few test runs later and we were happy with the results.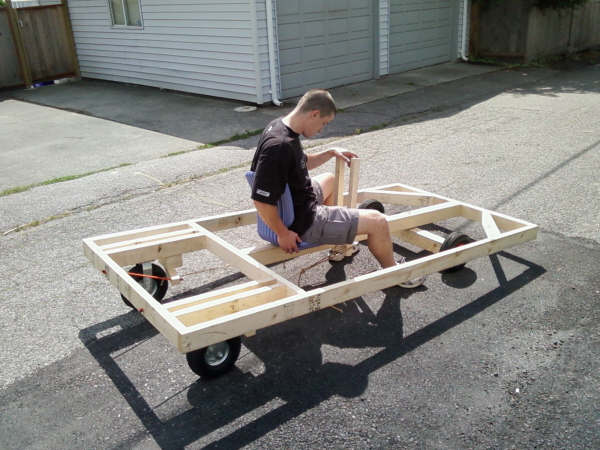 The cart is now ready for a frame and siding.....stay tuned.
Coquitlam Firefighters have a team in the Red Bull Soapbox Derby! Our team consists of Craig Stewart, Matt Wilkie, and Bubba Montabello. We are 1 of 56 teams entered in the race, and we feel lucky that we beat out 300 other teams that applied (including 5 other fire departments!). All the race details are on the website www.redbullsoapbox.ca. For those of you that have facebook check out the group at Red Bull Soapbox Vancouver. . Red bull estimates anywhere from 30,000 - 50,000 people to attend (hopefully lots of CF/R members will be in the crowd!)
The idea for our soapbox is pretty obvious.....it's a firetruck. More specifically it is hopefully going to replicate a Coquitlam Fire Engine! We are doing are best at building this, however; none of us has ever done anything like this before....so......
The team met on July 29th to draw up some plans (pic below)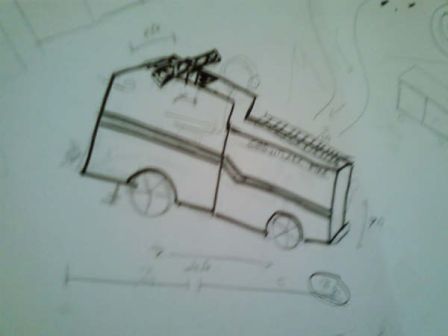 Then it was off to the store to pick up some wheels,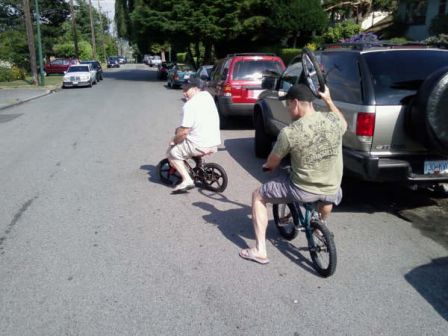 After the wheels it was time to build...
Stay tuned for some build pics!